Sunflower iMac & iPhoto introduction – Macworld SF (2002)

Macworld San Francisco was an entertaining keynote and worth the watch. Steve Jobs introduced a totally new design for the iMac (Sunflower iMac), updated the iBook and introduced a new application for its digital hub strategy: iPhoto (version 1.0).
Macworld SF keynote summary
00:00. Update on Apple
06:06. OS X apps demo (Adobe, Palm, Final Cut Pro, Mathematica, Harry Potter, Lucasfilm)
40:11. Digital Hub strategy & demo (iMovie, iDVD, iTunes)
52:33. iPhoto introduction & demo
1:17:45. iPhoto TV ad
1:19:26. 14″ iBook introduction
1:21:48. iMac and TV ads history
1:26:47. Sunflower iMac specifications
1:33:13. Sunflower iMac introduction
1:41:35. Sunflower iMac video
1:49:48. Apple's strategy
Date: January 7, 2002
Location: Moscone Convention Center, San Francisco
Steve was 46 years old.
The Sunflower iMac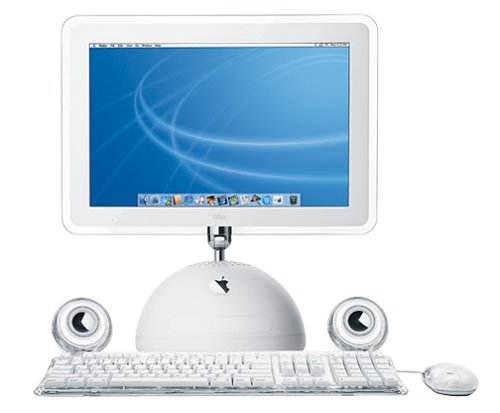 The story behind the creation of Sunflower iMac is interesting and is described in length this Time article. This paragraph is particularly revealing:
As (Steve Jobs and Jonathan Ive) walked through the 1,000-square-meter vegetable garden and apricot grove of Jobs' wife Laurene, Jobs sketched out the Platonic ideal for the new machine. "Each element has to be true to itself," Jobs told Ive. "Why have a flat display if you're going to glom all this stuff on its back? Why stand a computer on its side when it really wants to be horizontal and on the ground? Let each element be what it is, be true to itself." Instead of looking like the old iMac, the thing should look more like the flowers in the garden. Jobs said, "It should look like a sunflower."
On a personal note, I have to say that this iMac version is my favorite. It's cute and practical. It looks like Pixar's Luxo Jr. The screen was easy to move around and I found myself doing it often when showing videos at the family table.
Original iPhoto
iPhoto made it's debute in 2002 and became a major component in Apple's digital hub strategy. The first release of the image software was rather slow and buggy but it got quickly improved as Apple saw it's importance.
In future keynotes, Steve Jobs would often spend lengthy amount of times demoing iPhoto, sometimes showing photos of his family and kids.
I kind of miss the graceful and friendly design of the Sunflower iMac. And you?